Interview with Alfie: Learning to Cook!
"Before cooking at the office, I had never cooked. I thought it would be interesting to try it out." – Alfie
As young people progress into adulthood, learning how to cook is one of the most important skills a person can have. As children learn to cook, they learn to take control of their health. When you cook for yourself you learn to enjoy the healthy foods that you've always hated, and it's nearly impossible to cook without doing some Maths!
Cooking is a powerful learning experience! After all, learning to cook can be extremely fun! We have invited catering student Alfie to share his experience of cooking, and to show off all the amazing food he makes with tutor Kym and Emma!
What originally sparked your interest in cookery?
Before cooking at the office, I had never cooked. I thought it would be interesting to try it out.
What is the thing you enjoy most about cooking?
I love how diverse all the dishes are, and I also like finding out about the cuisine of other cultures.
Is there anything you've learnt along the way or improved on?
I've learnt a lot since the start of cooking, but I think the most important thing I learned was cutting skills including bridge and claw techniques.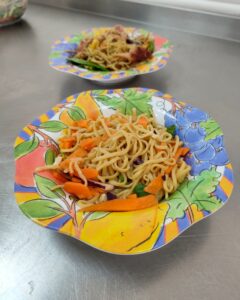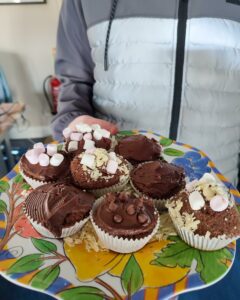 What has been your favourite meal to cook and why?
It's not a meal but it was a birthday cake and it was my favourite to make because it was something special for the person I gave the birthday cake to.
What was the hardest meal to cook and why?
I don't think any of them were too difficult to make but the first time I made bread rolls they had too much salt so I ended up redoing them. They were much better.
Is there anything you tried and liked that you didn't think you would?
I ate a vegetable I thought I wouldn't like called mange tout.
What recipe would you like to make next?
The next recipe I'd like to try is honey cake.
What would you recommend to someone wanting to learn how to cook?
I would recommend keeping practising and trying lots of recipes.
What are your next steps?
I want to try growing my own vegetables here at the office.